What would Stratasys and SLM-Solutions show in Formnext 2017?
07/11/2017
-
Tân Tiến
-
0 Comment
For many, formnext is the most important event on the 3D printing calendar – visitors can see new technology for the first time, while for enterprises critical final quarter deals will be done. Taking place in Frankfurt, Germany from 14 – 17 November, the 2017 edition will be substantially larger than last years event.
Interest in formnext is growing rapidly. Everything times two: the exhibitor numbers have doubled from 200 to 400 compared to the first formnext in 2015. The exhibitor area has also grown; two levels in hall 3 will be occupied in November, and the exhibition space has been expanded from 14,000 square meters in 2015 to approximately 27,000 square meters in 2017. The accompanying conference has also become bigger. Speakers from 17 countries will hold their talks on two stages.

SLM Solutions Group AG, a leading supplier of metal-based additive manufacturing technology from Lübeck, will have the largest booth in its company history at formnext from November 14 to 17, 2017. The new booth concept, which is based on the SLM layer process, will provide a wealth of new solutions for additive manufacturing on 322 sq. m. The SLM 800 will be presented to the public for the first time. The SLM 800 was shown as a concept in an animated video last year, but it will be presented live at formnext 2017. The new machine concept enables integration into automated and fully automated production processes. Another highlight will be the Additive Designer, the company's own data processing software, which represents an alternative to established programs on the market with its enhanced performance scope for metal-based additive manufacturing.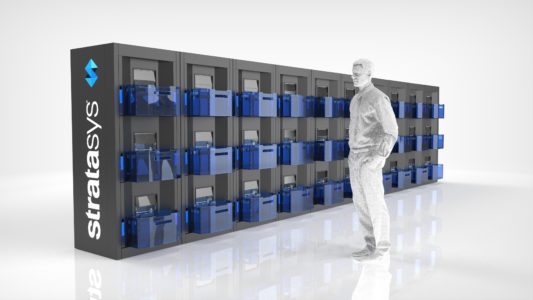 Stratasys has chosen formnext to make the European debut of their Continuous Build 3D Demonstrator.
First shown at this years RAPID event in Pittsburgh, the Continuous Build 3D Demonstrator has multiple 3D printing cells based on the Fortus engine. The modular system uses conveyor belts to allow uninterrupted production of 3D printed parts, and is designed for operation with minimal user actions.
This year the number of 3D printers featuring conveyor belts has increased, as our round-up article reported earlier in June.
In addition to the Stratasys F123 series, the company will also be demonstrating a new utility for the J750. The J750 is a full color, multi-material 3D printing system and at formnext Stratasys will show how with, "vivid color transparency combined with full color texture, users will now have greater levels of color and texture control for more realistic prototypes."
3D printing and Industry 4.0
Automation of 3D printing is set to be a key theme for formnext 2017. Last year, major OEM's such as Concept Laser and EOS presented concepts for integrating additive manufacturing with Industry 4.0 – visitors to this year's show can expect to see how work on these projects has advanced during the past 12 months.