Remedent grows its cosmetic dentistry dental business with 3d printing
06/06/2017
-
Tân Tiến
-
0 Comment
About Remedent and cosmetic dentistry
Remedent is a developer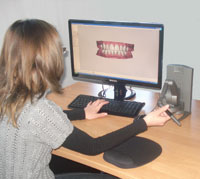 of innovative dental products With the constant goal to create safe and efficient solutions for both dentists and patients. Advanced CAD/CAM are helping dentists develop and manufacture competitive new procedures and solutions. Remedent's cosmetic dentistry products maintain a worldwide reputation of technological superiority
The Challenge of creating dental veneers
Dental veneers provide an affordable, painless way for patients with severely stained, misshapen, chipped, misaligned and discolored teeth to get beautiful smiles. Remedent's leading smile improvement system, GlamSmile (GlamSmile.com), revolutionizes the traditional method of applying porcelain dental veneers. GlamSmile involves a proprietary veneer fabrication technique and a patented single-motion veneer placement tray. Both are guided by a proprietary computer imaging, design and digital preview system. The tray delivery system lets dentists expertly seat 10 ultra-thin, custom veneers in less than an hour while preserving tooth structure. All of GlamSmile's features combined — CAD/CAM technology, digital preview for dentists' evaluation, and full-arch tray delivery system for minimal or no preparation — are a revolution in veneering and have already transformed many smiles around the world.
A key benefit of GlamSmile is its tray delivery system, which allows simple, fast seating of a full arch of veneers in one smooth movement. Unlike traditional one-veneer-at-a-time placement methodology, proprietary GlamSmile technology makes creating a beautiful smile with veneers a quick, comfortable treatment for both the dentist and the patient.
With a great product and
excellent services, Remedent found itself in an optimal position to accelerate growth. At the same time, The company needed to streamline its business. As part of its GlamSmile solution, Remedent provided custom trial veneers and delivery trays for each patient. This offers dentists great precision in placement that is difficult to achieve freehand. To rapidly manufacture these models directly from its proprietary software, Remedent required a 3D printing system that could enable faster throughput without compromising its high standards and without costly expansion of its technician staff and facilities.
The 3D printing Solution - Objet Eden 500V
he Objet Eden500V 3D Printer proved the perfect solution for Remedent. Its finely detailed printing, good layer resolution and smooth surface finish make it great for veneer models.
The parts Remedent builds on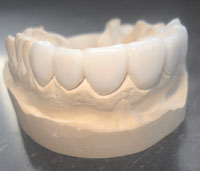 its Objet 3D Printer are bio-compatible and can be cold-sterilized, with exceptionally fine details and an outstanding surface finish.
For Remedent, this represents yet another leap toward the age of full digital dental solutions, where Objet 3D Printers can be used in conjunction with digitally designed veneers. Digital versatility enables Remedent to integrate smoothly with the market's leading veneer manufacturing solutions.
The Results
The technology taps a multi-billion dollar international growth market by making the dental veneers less traumatic, costly and time-consuming for patients, as well as substantially easier and more profitable for dentists. Remedent's Objet 3D Printer let it realize a complete digital workflow for in-house fabrication of digitally designed veneers. The company can now a greater variety of cosmetic dental solutions to their dentist clients.
3D printing has allowed Remedent to become a completely modern dental solution provider. Remedent's investment has been returned rapidly through increased business, rationalized production and reduced operation costs. The system capabilities continue to create new business opportunities and power growth.