STRONG PARTS START HERE
Built on the DNA of our Industrial Series and designed from the ground up for quality and reliability, the Onyx One is the desktop 3D printer for professionals.
Industrial Strength Parts
The Onyx One prints stiff and dimensionally stable engineering grade parts with twice the strength of other 3D printed plastics. Onyx parts have beautiful surface finish and are suitable for industrial applications.
Industrial Grade Printer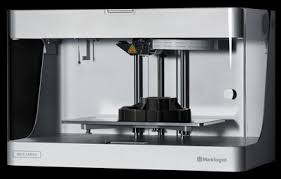 The rock-solid chassis that won industrial printer of the year in 2017, the Onyx One just works. Simple, reliable, repeatable and accurate.
HARDWARE
Industrial grade performance starts with an all-aluminum unibody enclosure built around an ultra flat gantry system. Add a machined aluminum stage with kinematic bed coupling, and a precision ground print platform. The Onyx One combines industrial quality with affordability.
MATERIALS
ONYX
Onyx yields stiff, strong, and accurate parts. Already 1.4 times stronger and stiffer than ABS, Onyx can be reinforced with any continuous fiber. Onyx sets the bar for surface finish, chemical resistivity, and heat tolerance.
SOFTWARE
With automatic version control, real-time fleet management and cloud-based collaboration, Eiger is the world's most advanced 3D printing software. Designed from the ground up to make manufacturing simpler, Eiger enables you to print plastic, metal and composite parts straight from your browser.
USABILITY
Cloud-connected software and a 4.3" touchscreen comes standard with every printer, washer and furnace. Regular over-the-air updates mean that your Markforged products keep getting better. Material usage tracking and out-of-material detection help monitor your printers and reduce waste. Just a few of the ways we're working to reduce the distance from design to part.
PART QUALITY
Every Markforged printer is built with designers and engineers and mind. We know that tools for manufacturing must be reliable in operation and repeatable in output. That's why we build our printers to deliver the highest quality of parts — precise, repeatable, and strong.

SEAWATER INTAKE
MARTAC designs and ma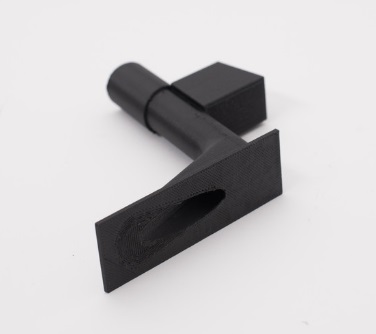 nufactures next generation high performance unmanned aquatic vessels. In order to cool the motors on these vessels, they route cool seawater inward from the outside of the boat. By printing the water pickups, they drastically cut fabrication costs on what would be an incredibly difficult part to fabricate. Onyx is robust enough to survive both ocean debris and corrosive seawater.
PRESS BRAKE TOOLING
Centerline Engineered Solutions fabricates formed steel parts with an industrial press brake. In order to fabricate each part, Centerline has to make a unique punch and die. For most applications, the cost of this specialized tooling does not justify the expense of the part. By printing the tooling out of Onyx and reinforcing critical points with steel inserts, Centerline creates forming tooling at a vastly lower cost.
BUILD VOLUME: 320 mm x 132 mm x 154 mm
FOOTPRINT: 584 mm x 330 mm x 355 mm
Z LAYER RESOLUTION 100 μm
MACHINE WEIGHT 15 kg (34 lbs)
MEDIA CARTRIDGE Plastic C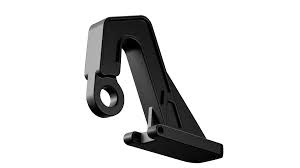 omposite Filament
INTERNAL PART GEOMETRY
Closed Cell Triangular Infill
Closed Cell Hexagonal Infill
Closed Cell Rectangular Infill
SECURITY
Single Sign-On
Two-Factor Authentication
PRODUCTIVITY
Printer Fleet Management
Organization Admin Portal
SOFTWARE DELIVERY
Cloud-Based
Local Storage
Fully On-PremiseOPTIONAL
EARLY-ACCESS UPDATES
Early Access to New Design Features & Printing Capabilities