Schneider Electric Plans Factory of the Future with Stratasys 3D Printing
06/06/2017
-
Tân Tiến
-
0 Comment
The French multi-national corporation Schneider Electric SE is a global specialist in electricity distribution, automation management and the production of installation components for energy management. The company's 160,000+ employees serve customers in over 100 countries, helping them to manage their energy and processes in ways that are safe, reliable, efficient and sustainable.
Schneider Electric leverages a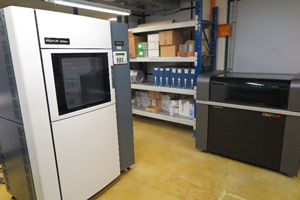 range of Stratasys 3D printers for various prototyping and manufacturing applications to improve production efficiencies and gain cost and time improvements
With efficiency enhancement central to its value proposition and, indeed, the ethos of the company itself, Schneider Electric was keen to explore ways of streamlining certain manufacturing processes to achieve both short- and long-term efficiency goals.
To help meet these objectives, the company has incorporated Stratasys 3D printing technology across its manufacturing operations in Grenoble, France, having originally used it for several years for prototyping new solutions.
Schneider Electric now uses a combination of Stratasys PolyJet and FDM based 3D Printing solutions for product development, prototypes and industrialization. This comprises multiple applications, including injection molding and assembly-line tooling, the design and production of which is managed via the company's internal model shop, Openlab. This extensive deployment of 3D printing technology also complements the company's vision of creating the Factory of the Future.