Markforged Debuts Blacksmith Artificial Intelligence (AI) Software for Metal 3D Printing
12/06/2019
-
Tân Tiến
-
0 Comment
Markforged announces Blacksmith, the first artificial intelligence (AI) software to make metal 3D printers able to correct minute deviations in product output. The product was announced in latter May 2019 at the RAPID + TCT Additive Manufacturing Conference in Detroit, and will ship to first customers later this year.
Markforged says Blacksmith "makes manufacturing machines 'aware' so they can automatically adjust programming to ensure every part is produced as designed." The initial release of Blacksmith will work with selected Markforged metal 3D printers. The long-term goal is for Blacksmith to be compatible with all manufacturing machines, not just 3D printers.
Starting with Markforged's Metal X and X7 3D printers, Blacksmith will create a continuous feedback loop to make 3D printed parts more accurate. Markforged says the intelligent software "massively cuts waste and accelerates time to market" by analyzing a design, comparing it to the scanned part, and then automatically adapting the end-to-end process to ensure perfectly in-spec parts.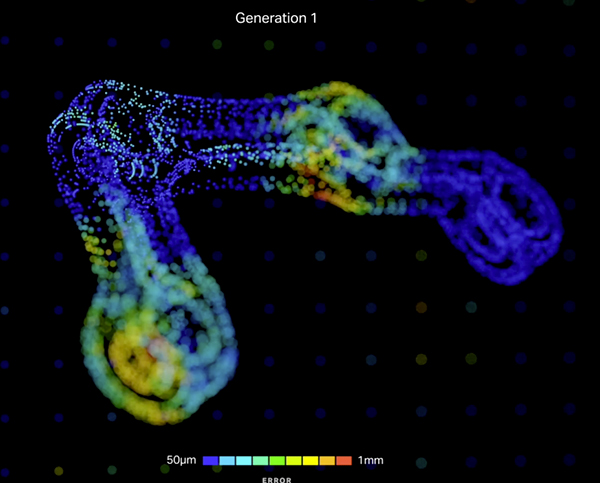 Markforged Blacksmith takes the results from a 3D scan and analyzes them for conformity to the original design. Image courtesy of Markforged.
"For the last hundred years, machines have been unaware of what they're creating and would happily waste millions of dollars producing out-of-spec parts," says Greg Mark, CEO of Markforged. "We're going to fix that by connecting the machines that make parts, and the ones that inspect them, with a powerful AI. Much like the way Tesla is building autopilot for cars, we are building an autopilot for manufacturing."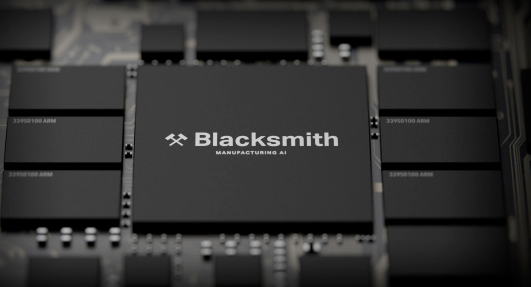 Markforged Blacksmith in silicon: Blacksmith will ship as a dedicated co-processor. Image courtesy of Markforged.
A sight for machines
The way Blacksmith works is that a part is scanned each time it is 3D printed. The point cloud data from this scan, as well as process parameters and some CAD information, is automatically fed back to Blacksmith. The technology then compares all the data to determine how the outcome can be made closer to the intended CAD file.
Without such a process, machines are blind to the objects they are making. Rather than carrying any specifics about a part though, the platform is more interested in the fundamentals of a design, e.g. the optimal conditions for creating bridges in a 3D printed part, or how to create features of a certain size. In this sense Blacksmith's intelligence, according to Mark, can be likened to the way Tesla "teaches" its cars to drive.
"They don't care how you or I drive visually, they're just learning how to drive," he explains. "AI is learning how to drive. AI is learning how manufacturing works. How sintering works. How CNC machining works. How 3D printing works."
The more data Blacksmith is given, the tighter the tolerances it will get when producing parts. In 3D printing, Markforged is currently producing tolerances comparable to casting. The pursuit of the Blacksmith platform is to get as close to the digital CAD file as possible.
Blacksmith availability
According to Markforged, Blacksmith is the first technology of its kind in the industry. At this stage, it has only been tested internally at the company. However, the few external partners the team have shared the idea with have expressed interest in the tool.
At RAPID + TCT this week the team are showing their first demo of Blacksmith to the public. A pilot trial of the platform for partners is scheduled to roll out in Q3 2019.
On full availability of the technology, there will also be a cost introduced for customers seeking its integration. "There will be a cost to run Blacksmith," Mark adds, "But production will be dramatically more cost efficient that not having it and making incorrect parts."