Plastics 3D Printers
By using 3D printing in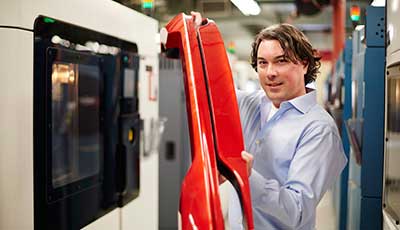 the automotive world, engineers can be more confident going into production and avoid any errors that may have occurred.
For resilient prototypes and parts made from high-performance engineering thermoplastics, Stratasys has Fused Deposition Modeling (FDM) Technology. For beautiful models requiring rubberlike or clear materials with a smooth finish right out of the 3D printer, we offer PolyJet technology.
"Stratasys is on the cutting edge of additive manufacturing technology for automotive applications. Utilizing their equipment and technical support will provide us with another means to put our ideas on the race track first."
Tim Cindric, Team Penske President
Only the toughest parts can stand up to the extreme challenges of transportation applications and safety standards. With a wide array ofrugged, high temperature materials and versatile additive manufacturing technologies at our disposal, we help our transportation and automotive partners develop consolidated, lightweight components that lead to more efficient vehicles. Our continuing advancements in enterprise 3D printing have also opened up exciting new opportunities for end-use and mass customization applications.
Applications
Ductwork
Turn to 3D printing for complex, lightweight ductwork that can't be fabricated with conventional manufacturing methods. Laser Sintering and Fused Deposition Modeling allow you to combine multiple duct components into one piece for efficiencies and speed during your functional prototyping process.
Aftermarket Parts
If you're into restoring classic cars, 3D printing could become your new favorite tool. No original molds or tool patterns? No problem. Convert old drawings into 3D CAD data and then get the files printed into that classic car part you're missing. It gives the word restoration whole new meaning.
Custom Interiors
In the world of luxury vehicles, custom interior features and components are essential. 3D printing is enabling customization and opening up the possibilities of creating highly-personalized vehicles fast without the need for expensive tooling. Lightweight thermoplastic and photopolymer parts can be cosmetically finished and coated for seamless vehicle integration.
Large, Complex Paneling
Cutting-edge automotive manufacturers are taking advantage of 3D printing's speed and design freedom for prototyping vehicle designs. Fused Deposition Modeling offers particular benefits when it comes to fabrication large paneling for the exterior of prototype vehicles and trucks. Its large printing platform, the ability to bond sections together, and build in complex geometries, make FDM an ideal process for creating prototype parts without the need for tooling.