Aerosport Modeling & Design Embraces 3D Printing Technology Choices of Today
21/12/2018
-
Tân Tiến
-
0 Comment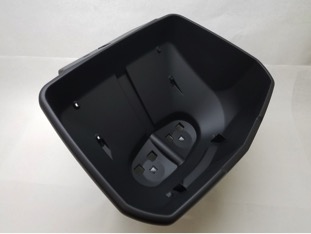 Photo Caption: Aerosport production of a high quality massive working prototype–in one build on the UnionTech™RSPro600.
The 3D printing landscape has changed dramatically since the 1988 commercialization of stereolithography (SL). There have been substantial advances in software and materials that sync with increasing computer power and growth in the 3D CAD installed base. Most notably, there has been a surge of new technologies and market entrants. Both new and established users of 3D printing are faced with a formidable task of choosing whether to place their investment dollars in the promises of emerging technology or continued expansion in proven technologies.
In 2017, Aerosport has also continued investment in stereolithography (SL), a core technology for the company since its 1996 founding and they added another machine to the lineup this year.
Aerosport chose a machine from one of the largest manufacturers of stereolithography equipment today, UnionTech. While many see the company as a recent entrant to international markets, UnionTech pioneered stereolithography in China beginning in 2000 and has grown to become the largest domestic supplier. UnionTech has grown in an environment of intense competition from other SL manufactures as well as a robust CNC machined prototype industry. Such competition has forged the current PILOT commercial series and RSPro production series into robustly constructed machines that produce highly accurate parts very cost effectively with 355nm stereolithography.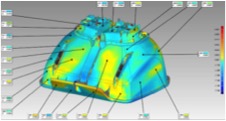 Photo Caption: Laser scan quality check substantiates printing accuracy
With a large build platform (600 mm x 600 mm x 500 mm) and open design for materials and software, the UnionTech™ RSPro 600 provided a solid extension of Aerosport's prototyping capabilities.
"We wanted a large platform machine that could perform at a level of quality and cost effectiveness that was above the other machines currently being offered on the market. I have been in the industry for over 20 years, so hearing promises and statistics about a machine's capability was nothing new to me. After seeing some sample parts from the RSPro 600 that displayed the quality and backed up the claims, we decided to purchase one for ourselves. That's when the real testing began!" said Geoff Combs, owner, Aerosport Modeling & Design.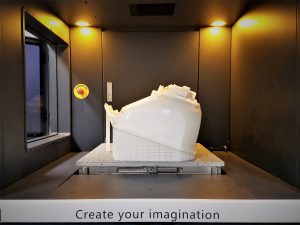 Photo Caption: Aerosport used Somos® EvoLVe 128 resin to produce a high quality massive working prototype–in one build.
Aerosport put the UnionTech™ RSPro 600 to its first big test with the largest build for a customer, to date, on the machine. Using the Somos® EvoLVe 128 resin, a third generation SL material optimized for mechanical property robustness and processability, the Aerosport team produced a massive working-prototype– in one build–that included every single feature, with great results, on the UnionTech RSPro 600 equipment. This was a fully functional part when assembled by the client, which was used for functional demonstrations in the complete equipment assembly as well as a display model. Part volume was more than 100 cubic inches with approximate dimensions of 19" x 23" x 11.5".
Zac Holcomb, Aerosport's SL/3D Print Manager, notes that build accuracy is both a function of material shrinkage upon cure and imaging accuracy. Calibration of the machine specifically for the EvoLVe photopolymer and check builds ensured that material parameters were properly accounted for.
Aerosport then used a laser scanning system to compare the actual build dimensions to CAD data. The team at Aerosport not only found that the entire part was within +/- 0.010"in this instance but also UnionTech's accuracy claim of +/- .1% x length has proven itself time and time again in other builds.
Another factor in Aerosport's decision to purchase the RSPro 600 was UnionTech's open design philosophy that allows Aerosport freedom of choice relative to material supply options. They have exclusively used SOMOS® SL materials for over 12 years based on solid technical support and continued innovation. The EvoLVe resin, for instance, is a third generation material optimized for durability and ease of processing.
The wide range of material capabilities provides significant versatility to the SL process relative to meeting customer needs. Zac Holcomb notes, "Aside from using robust materials for mechanical performance applications, Aerosport has been a market leading supplier of clear parts for over 12 years. We also use a highly filled composite material to produce tooling for injection molding parts with various end-use materials, ranging from ABS to silicon and other elastomeric materials. The range of applications, in size and performance capability, that can be served with a single SL machine brings great value to a service bureau like Aerosport that seeks the best solutions for their customers' needs."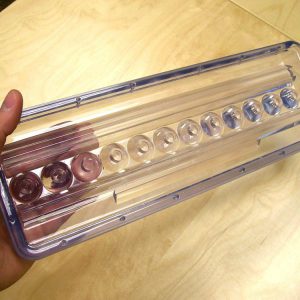 Photo Caption: Aerosport provides customers with affordable prototyping services including high quality clear parts as shown above.