3D Printed Jigs and Fixtures Optimizing Auto and Aero Design
05/06/2017
-
Tân Tiến
-
0 Comment
Let's say you need to produce testing equipment for the some of the most vital, complex industries in the world, like aerospace and defense, automotive, rail and others. In these industries, there is a lot riding on whether a part passes or fails rigorous testing. Producing this testing equipment quickly, flexibly and with 100% precision is an absolute must to stay competitive. This is why the product engineers at Peak Production Equipment rely on Stratasys FDM 3D Printing solutions to create specialized jigs and fixtures for producing testing equipment for such companies as Rolls Royce, Siemens and BAE Systems.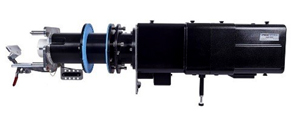 Designed for a leading aircraft manufacturer, this Peak Production test unit tests the catch used to release the landing bay door of an aircraft. Due to the complex profiling of the internal components, much of this unit was produced using Stratasys FDM 3D Printing
Testing is a vital part of product design, and Peak Production covers all the bases with their test boxes, test racks and other systems that are meant to catch weaknesses or safety issues during the design cycle. These pieces of testing equipment are themselves specialty items, and Peak Production has adopted Stratasys 3D printing as a way to create customized jigs and fixtures for their manufacture. Also, the 3D printed jigs and fixtures take up to 90% less time to create and cost 50% less than equivalent CNC-machined parts. This has enabled the company to ramp up production to meet the most aggressive turnaround times requested by customers.